2024 Vision Systems Design
Innovators Awards
Call for Entries
Recognizing and rewarding the most innovative products,
services, and companies in the machine vision industry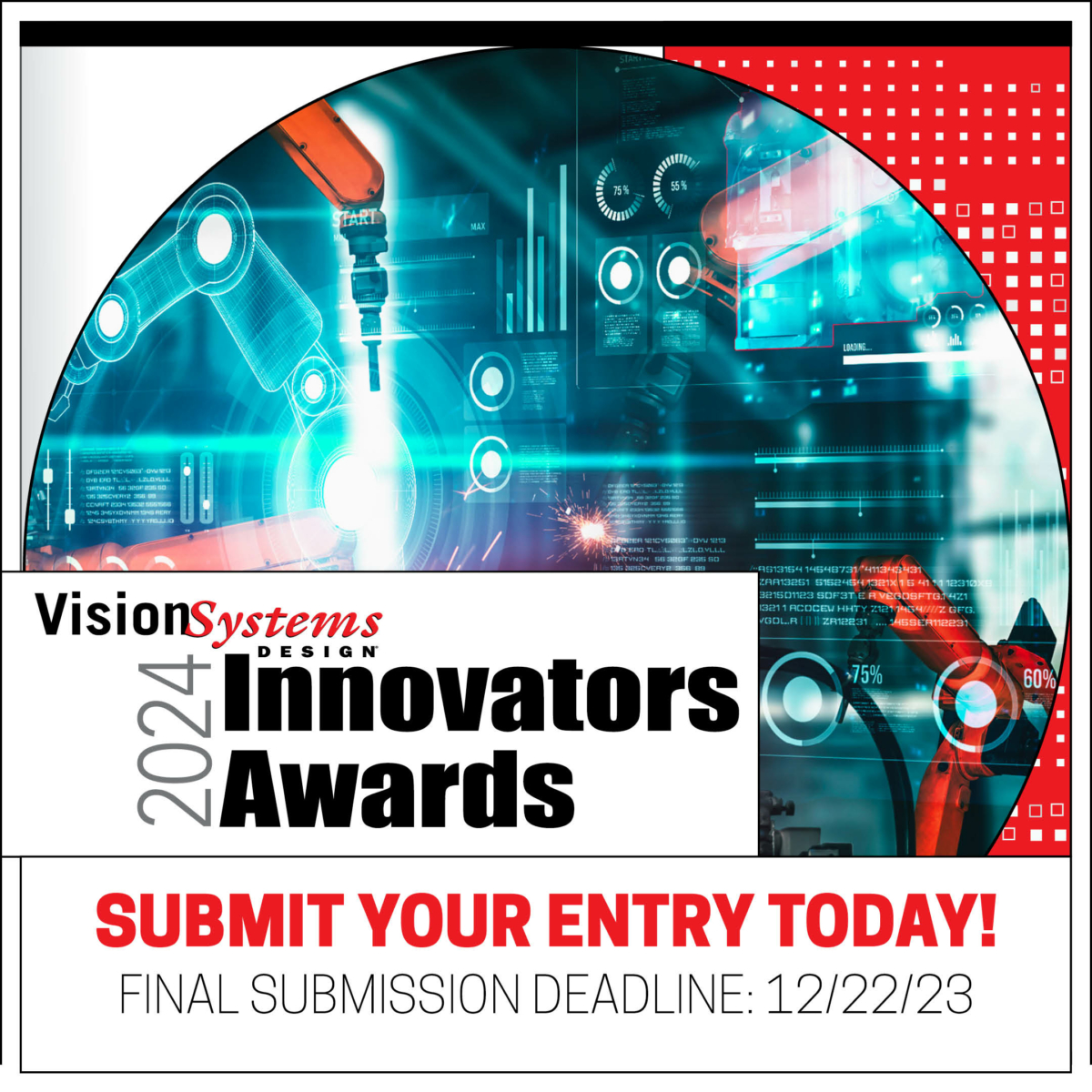 Honoring the best in machine vision innovation.
The 2024 Vision Systems Design program recognizes technology developers demonstrating excellence in serving the machine vision community.
We are seeking submissions in the following categories:
Vision Systems
Cameras – Visible
Cameras – Non-Visible
Cameras – 3D
Cameras – Specialty (High-Speed, Scientific)
Image Sensors
Lighting, Lenses, and Optics
Camera Accessories/Connectivity: Enclosures, cables, connectors, extenders, interfaces, mounts, etc
Software
Frame Grabbers and Boards
Embedded Vision: Cameras, Computers, Boards, Processors, Development Kit, Components
Robotics
Unmanned
If your product is original, innovative, saves your client money, is more efficient than products currently available, and has a novel approach, complete your nomination today.
Early Bird Deadline: November 22, 2023 
Early Bird Price: $545
Final Entry Deadline: December 22, 2023
Regular Submission Price: $645
BE RECOGNIZED
Honorees have made groundbreaking contributions to the vision and imaging industry and
are recognized as leaders and innovators to the largest collection of industry professionals,
with coverage on vision-systems.com.
INCREASE CREDIBILITY
Being an honoree is validation of your product, project or application from a credible third
party to the vision and imaging industry. It's a great way to reinforce the quality of your
innovation to existing and potential customers.
GAIN A SALES AND MARKETING ADVANTAGE
Being recognized with a 2024 Vision Systems Design Innovators Awards is an additional tool for your team to use as part of their sales pitch. Companies recognized with this prestigious distinction can better compete for business as recognized honorees who are less risky for potential customers.
SET YOURSELF APART
Honorees rise above the competition and instantly tell the vision and imaging industry that
their innovation is unique and worthy of review.
How To Submit
Creating An Account
Login or create your account using the form on the left
After you have created your account you'll be prompted to submit your entry. Click here to begin your entry.
If you are interrupted and don't have time to complete your entry your entry will be saved as IN PROGRESS until you have time to complete it. If you forgot your password click "lost password" Any required fields that are not filled in will be highlighted in red when you hit SAVE
When your entry is complete click ADD TO CART
At this point, you can either ENTER ANOTHER SUBMISSION or CHECKOUT
At CHECKOUT submit your credit card details and click PROCESS (Only click PROCESS one time!)
Submission Rates
Early Bird Entry Rate: $545 per entry received on or pior to November 22, 2023
Regular Entry Rate (December 22, 2023): $645 per entry
Troubleshooting Your Electronic Entry
PROBLEM: I keep hitting SAVE but my entry is not saving
Try This: Review your entry and confirm any required field is filled in or checked.
PROBLEM: I did NOT receive a confirmation email after submitting my entry
Confirm you entered an accurate email address
Confirmation emails are sent once payment is submitted
Selection Process
Each Vision Systems Design Innovators Awards Entry Should Address the Following:
How your product/service/software helps customers meet their objectives, reduce operational expenses, and/or develop new revenue sources.
The unique features of this product or solution as it compares to competing solutions
Judges Will Review Your Entry Based on the Following Criteria:
Originality
Innovation
Positive impact on the customer
How well it addresses a new or existing requirement
Novelty of approach
Cost-effectiveness
Make Sure to Include the Following in Your Judges Packet:
A spec sheet – detailing the parameters the product or service is designed to meet.
A brief technical description of how the product works.
A photo or photos
Please Note: No more than 5 extra pages of documentation, including spec sheets, are allowed. Pictures, diagrams and/or charts do not count toward your 5 pages.
We want your entry to be as powerful and impressive as possible. Here are a few tips that will let the judges see your entry in the most favorable light.
Block time out on your calendar. Map out some time on your schedule so you can focus on your entry. Use specific, quantitative, and instantly credible language. Avoid the urge to just copy and paste the text from your marketing collateral or website.
Be sure to answer the following questions about the product/service/software. How does your product/service/software help customers meet their objectives? How does it reduce operational expenses and/or develop new revenue sources? What are the unique features of this product as it compares to competing solutions? What makes it innovative?
Get input from the technical/engineering team. Coworkers at your company can help provide specific examples on how the development impacts the machine vision community.
Download a preview of the entry form and compile your answers before completing the online entry. Once you've compiled your data review your draft and confirm it clearly demonstrates one of the following criteria: Originality, Innovation, Positive impact on the customer, How well it addresses a new or existing requirement, Novelty of approach, Cost-effectiveness.
Back up your claims with supporting evidence such as charts, tables, or testimonials. Make it as easy as possible for the judges to look at your entry in the most favorable light.

DEADLINE FOR ENTRY
Early Bird Deadline: November 22, 2023
Price: $545
Submission Deadline: December 22, 2023
Price: $645
Vision Systems Design Team